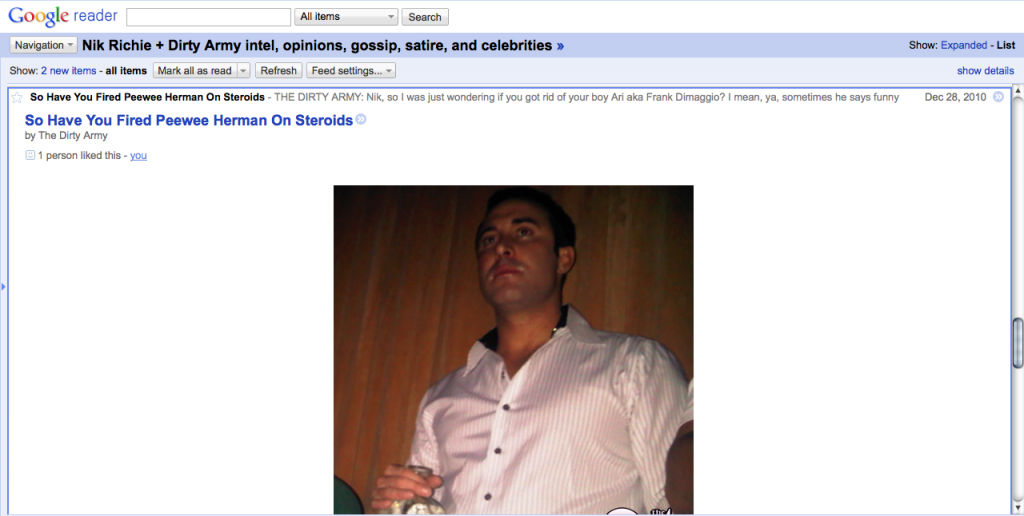 Hey Spurs,
I thought you had stopped posting, until I remembered you moved the site.. damn feed changed on me. But I'm back!
Anyway.. We all know there's been trouble in paradise for a while now. But, today I noticed a post from last night in The Dirty feed in Google Reader about Ari Golden (aka Frank Dimmagio, Jr.)! When I clicked through to the post it was gone, http://thedirty.com/2010/12/so-have-you-fired-peewee-herman-on-steroids-2/ – a Google search for the URL shows it was there, but it looks like they're not linking to the cache anymore.
Anyway, here's a couple of screen shots of the post in Google Reader. This might also explain why Frank hasn't been posting to his Twitter account in a while, besides a job ad today (is he looking for a new gig?).
MGK
What's up Maynard, long time no see. Welcome back. Yeah, the feed changed because of the switch from Blogger. I know there's a way to change it, but I couldn't figure it out. Because I'm dumb.
As far as this tragic downfall of a partnership? I don't know, I'd reach out to Hollywood (Nik), but I won't even bother trying. I know he won't get back to me. I think he might still be pissed about that whole "dirty army" deal. Like we somehow sabotaged the joint. As if that was the M.O. all along. Hurtful someone would think that.