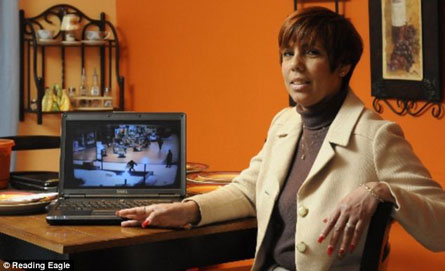 Cathy Cruz Marrero remembers her foot striking the base of the fountain as she held her purse and clutched the cell phone she'd been using to text.
The phone popped out of her hand and landed in the water as Cathy began her plunge into the Berkshire Mall fountain.
"I saw the water coming at me, I could see the pennies and nickels at the bottom of the fountain and then I was in it," said Cathy, 49, a Reading resident who works in a store at the Wyomissing mall.
"My issue is I don't think security was professional because they didn't send anyone to check on me until 20 minutes later and I had already left. Instead of laughing, they should have said, 'Is she OK?' and been down there right away to check on me."
Cathy's lawyer adds that they are investigating the incident and will take legal action:
"We are troubled by the fact that anyone at the Berkshire Mall responsible for releasing this video would find humor in an employee injured on the premises. We intend to hold the appropriate persons responsible. No one from that security office came to her aid in a timely manner."
Full story here.
Of course she's going to come forward and sue someone.