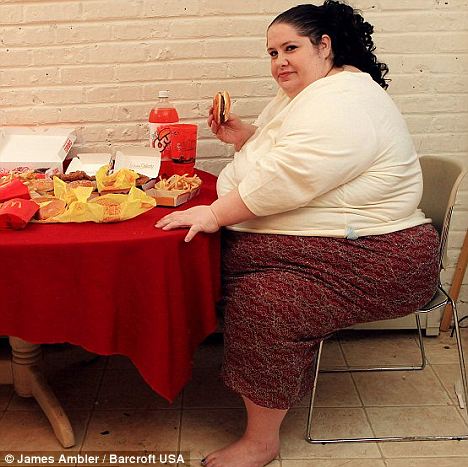 A New Jersey woman who hopes to become the fattest woman in the world got 30,000 calories closer to her 1,000lb goal with a festive feast that could have fed dozens of revellers. Donna Simpson, sitting in a reinforced metal chair, chowed down on the world's biggest Christmas dinner as she ate for two straight hours on Saturday. The single mother-of-two tucked into two 25lb turkeys, two maple-glazed hams, 15lbs of potatoes (10lbs roast, 5lbs mashed), five loaves of bread, five pounds of herb stuffing, four pints of gravy, four pints of cranberry dressing and an astonishing 20lbs of vegetables.
After polishing off her enormous main course, she still had room for dessert and ate a 'salad' made of marshmallow, cream cheese, whipped cream and cookies.
Donna's two children, Devin, 14, and Jacqueline, three, enjoyed a more modest feast. The 5'2 Donna defended her £150 meal, saying: 'I eat as much as I want, whenever I want but at this time of year I really go all out."
You think? For those of you who feel they stuffed themselves, this should make you feel better. I imagine watching her eat all that was gruesome. The family should have charged a fee to watch.