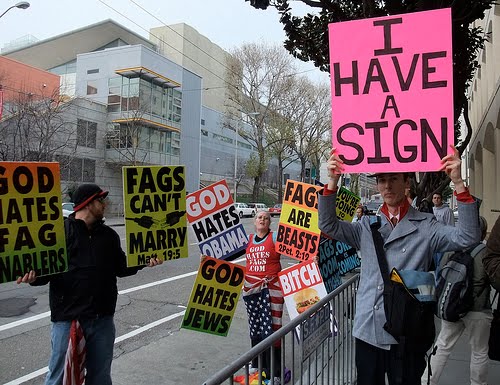 Photo by EDW Lynch

Photo by Rubin Starset
From SFGate.com:
Megan Phelps-Roper, granddaughter of church founder and preacher Fred Phelps, explained in her tweet:
Don't be silly! We're not protesting Twitter as a platform; that's like picketing television! =) We're picketing the people who run @Twitter, who don't use their position & voice to warn a generation of rebels of the consequences of their rebellion. Same goes for those at Foursquare & Gowalla (tho I personally find their products useless — at least relative to Twitter. =)
So the Westboro Church went out to Twitter headquarters in San Francisco and protested Twitter. So Megan (that's the lady who did the Gaga song) thinks Twitter is bad, but yet she's using the service? Doesn't make sense to me.
I do like the signs that the protesters protesting Westboro Church made.
Thanks for sending this bitchhog.