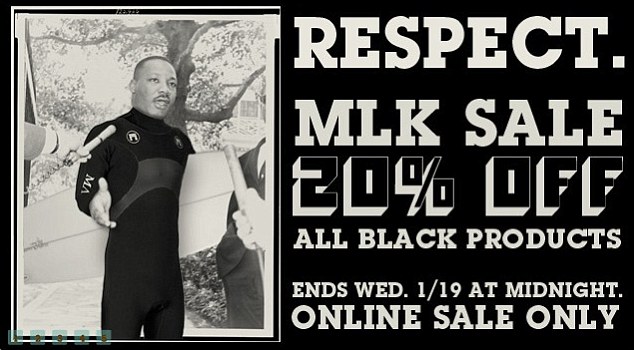 E-mail from Jacare:
Check this one out, I think AZ would agree with what they did
.
A California surf shop has received complaints after featuring Martin Luther King's image on a promotion for its black sale items.
Thalia Surf Shop in Laguna Beach superimposed the civil rights leader's face over a picture of a man in a wetsuit holding a surf board for its Martin Luther King Day sale.
But the outlet has been criticised for the crass use of Dr King's image in an advertisement, especially on a national holiday honouring his influential beliefs, with commentators saying the promotion showed 'bad taste' and was 'wildly inappropriate'.
Rest of the story here.
Not really sure what the "black products" mean. Does that mean items that are black or what? I find it amusing when media outlets pick up stories like these, drawing attention to a business or individual, which is exactly what they want.