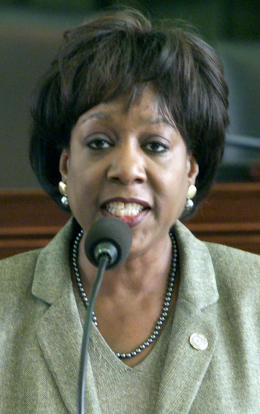 From WOAI:
Motorists are already required to carry auto insurance in Texas, the new health care bill requires that every American carry health insurance, and now there's a new mandate in the works—dog insurance.
State Rep. Ruth Jones McClendon (D-San Antonio) has introduced a bill that would require any Texan who owns a male dog which weighs 20 pounds or more and is not neutered to have an insurance policy covering injuries or damage caused by that dog when it is off the leash or out of the dog's yard, 1200 WOAI's Michael Board reports.
"Unrestrained un-neutered male dogs over 20 pounds have a higher tendency toward aggression," McClendon said.
McClendon's proposal sparked a quick response from groups that represent dog owners. The U.S. Sportsmen's Alliance called it 'ridiculous.'
"Why male dogs only?" Alliance spokesman Jeremy Rice asked. "Why dogs 20 pounds and not 17? Why only unaltered dogs?"
McClendon says the reason for the restrictions is based on the observations of animal care officials who have told her that these types of dogs are the most likely to cause injury or property damage.
The insurance would cover injuries caused by the dogs while they are off their leash, and off their own property.
"This does not in any way penalize dogs, or prevent people from enjoying the benefits of dog ownership," she said.
McClendon says the measure was based on a tragic incident that happened to one of her constituents in her East San Antonio district, who was attacked by a neighbor's dog.
"He contacted a neighbor, and the neighbor did not take responsibility for the dog's actions," she said, adding that her proposal is a 'personal responsibility' measure.
But the Sportsmen's Alliance says the measure discriminates against certain types of dog owners and that's unfair.
"Smaller dogs, female dogs, dogs that are spayed or neutered are still liable to cause injury," he said.
He says under McClendon's bill, a person would have to buy insurance before taking their dog to a dog park.
"Because at that point, you are in a public place and you are letting your dog run free," he said. "I think that goes against what the bill considers 'restraint'."
Pretty easy to see what's going on here. She's racist against big dogs.