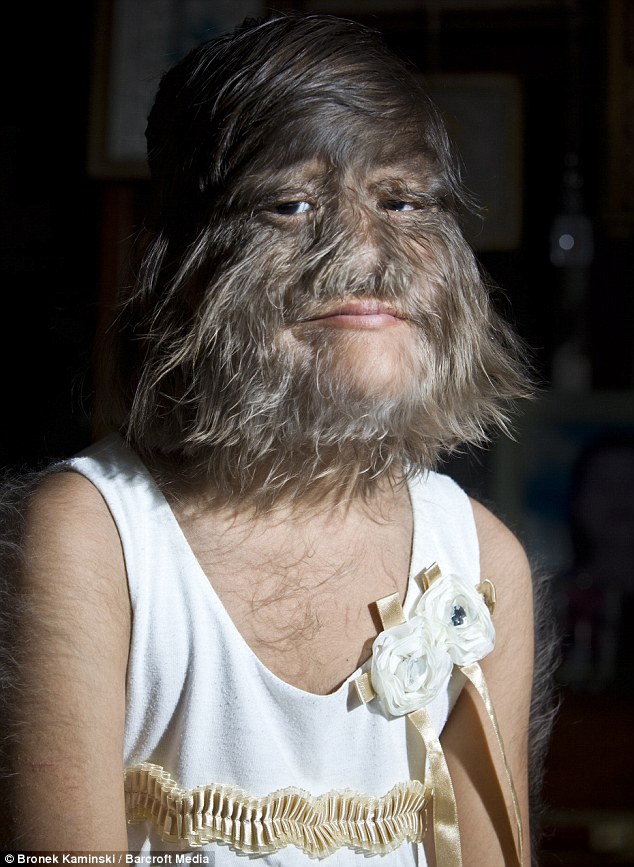 From DailyMail: Her nicknames may include 'wolf girl' and 'monkey face'.
But 11-year-old Thai girl Supatra Sasuphan today insisted that she was after being officially recognised as the world's hairiest girl.
'I'm very happy to be in the Guinness World Records! A lot of people have to do a lot to get in,' she said. 'All I did was answer a few questions and then they gave it to me.'
Supatra is one of just 50 known sufferers of Ambras Syndrome – caused by a faulty chromosome – to be documented since the Middle Ages. Before the disease was understood, sufferers were branded 'werewolves.'
She has thick hair growing over her face, ears, arms, legs and back. Even laser treatment has failed to stop the hair growth.
But while most sufferers have been shunned, Supatra has gradually been embraced by her community, and became a popular and outgoing child.
She said: 'There were a few people who used to tease me and call me monkey face but they don't do it any more.
'I'm very used to this condition. I can't feel the hair as it has always been like this. I don't feel anything.
'It does sometimes make it difficult to see when it gets long.I hope I will be cured one day.'
In other ways Supatra is the same as other children her age – she loves swimming, dancing to her favourite music and playing with friends.
But more than anything, Supatra loves perching in front of the TV at her tiny one-bedroom family home in Pranakom, on the outskirts of Bangkok, to watch cartoons.
To read the rest of the story, click here.
Just wanted to take the time to say "You're welcome" to those that might be disturbed by this. I know kinkyb!tch is sick (knocked up), so no problem, kb.